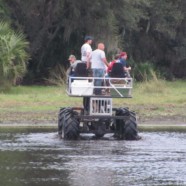 You won't regret watching these videos!
Swamp buggies gettin' dirty and havin' a good time!
---
 Swamp Buggies of FL Wheelie — AMAZING!
---
 Swamp Buggy Wheelie — 8 seconds of awesome!
---
Swamp Buggies of Florida was featured in an episode of "How Do They Do It".
---
---
---
Hog Hunting Fun
Watch Mike and his finest hog hunters have some fun on their ultimate hog hunting machine.
---
Mike's Big Race Boat Day
Mike was given the opportunity to drive an offshore race boat.
Watch him fulfill his need for speed!